SOLD!!!  Ritunja – Oldenburg mare.
Best Wishes to Jennifer Mitcham on the purchase of Ritunja.  May your trips down centerline be joyful!
SOLD!!! Mack – Arabian/Dutch gelding.
Congratulations to the Pomeroys on the addition of Mack into the family! So pleased to continue to work with Devon and Mack on their Dressage goals!
SOLD!!!  Ghost  – Andalusian cross gelding.
Congratulations to Mary Ann Melik on the purchase of Ghost! Says Mary Ann – "Ghost has been started beautifully and I'm so excited I have found my lifetime horse!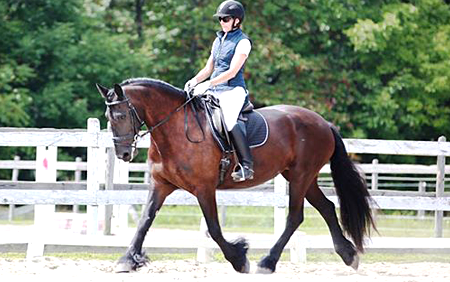 SOLD!!!  Violet – Fresian mare. 16 hands.
CONGRATULATIONS to Jeanne Stetzko on the purchase of Violet! "You did a great job with Violet. Love her canter. I will enjoy her fully," says Jeanne.  Everyone at HJS wishes them many happy years in the show ring!
SOLD!!!  Heart's Journey (Winston). Rhinelander gelding.
CONGRATULATIONS to Lorri Ackerman on her purchase of WINSTON! While we are incredibly sad to see him go, we are so glad he is going to a wonderful forever home. "This is how a horse should ride—he is AMAZING and well trained," says Lorri. We wish them the best of luck in the Dressage ring, and many happy years together!